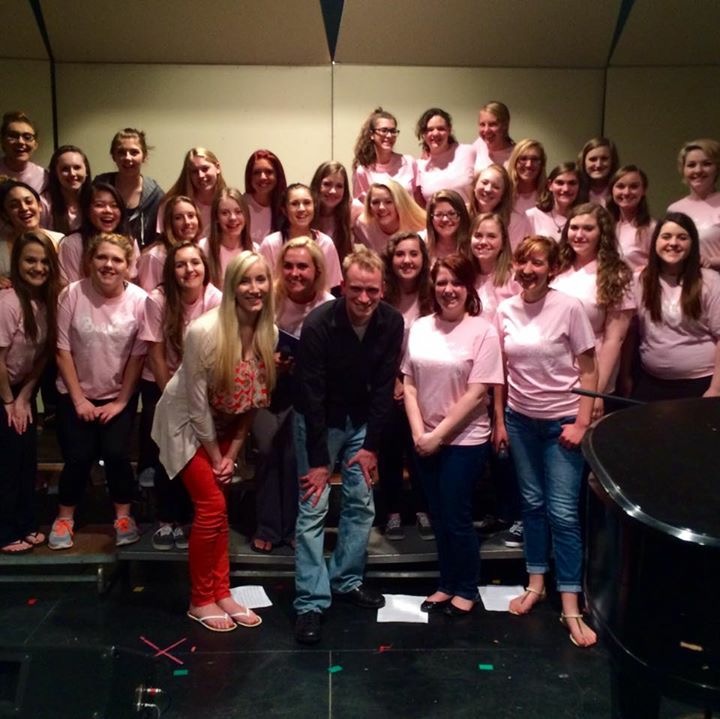 This spring, John was commissioned by
Norwin School District
to write a choral piece for Bel Canto – Norwin High School's all-female chorus, directed by Mrs. Bridget Faulk. In addition, he was honored with the chance to serve as Guest Conductor for the World Premiere of the resulting piece: "The Arrow and the Song," written for SAA and piano.
The composition process started with some active participation from the students. The Bel Canto girls headed to the library, searching for suitable poems and texts – some even submitting their own original work! After reviewing a narrowed list of suggestions, John was stunned and moved by the text for "The Arrow and the Song," a poem by Henry Wadsworth Longfellow. With compelling symbolism and whimsical fluidity of text, the poem proved a perfect foundation upon which to compose a choral piece. The score was delivered to Mrs. Faulk, along with an interview-style video in which John was able to explain his inspiration and intentions for the piece. John was also able to conduct the dress rehearsal before the concert, giving him a wonderful opportunity to work closely with the students and answer their questions.
Just under five minutes long, the piece showcases two soloists (soprano and alto), lush harmonies with modal tendancies, and deliberate text painting to reflect the beautiful imagery of Longfellow's words. "The Arrow and the Song" was received enthusiastically by students, teachers, and parents alike, and served as a positive and enjoyable learning experience for everyone involved!