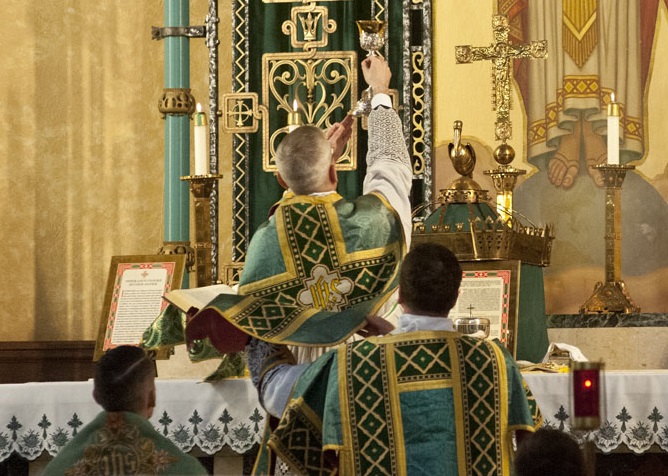 St. John XXIII Parish is overjoyed to welcome two priests from the
Institute of Christ the King Sovereign Priest
as their new pastor and parochial Vicar. Canon William Avis (pastor) and Canon John O'Connor celebrated their first High Mass with the parish on Sunday, October 21st. The initial results of their arrival have been extremely encouraging: in this past month, Mass attendance has increased by nearly 40%, while financial contributions have increased by over 50%, with new parish registrations coming in every week.
The Institute of Christ the King Sovereign Priest is a Society of Apostolic Life of Pontifical Right whose goal is the honor of God and the sanctification of priests in the service of the Church and souls. The Institute was founded in 1990 by Monsignor Gilles Wach and Father Philippe Mora in Gabon, Africa, where they still have missions. Today, the Institute operates in more than fifty places in twelve countries; the motherhouse and international seminary of the Institute is located in Gricigliano, in the Archdiocese of Florence, Italy. An integral part of the Institute's charism is the use of the traditional Latin Liturgy of 1962 for the Holy Sacrifice of the Mass and the other sacraments. St. John XXIII Parish is blessed to be led by these two devoted priests from the Institute:
Canon William Avis
Born in Waterloo, Iowa, Canon William Avis converted to Catholicism in high school. He entered the Pre-Seminary Formation of the Institute of Christ the King in Rockford, Illinois and did an additional year at the Institute's house in Bayerisch Gmain, Germany. His priestly formation took place at the Institute's seminary in Gricigliano for six years. After being ordained deacon, he spent a year in Saint Louis, Missouri where he was ordained along with Canon Matthew Talarico at the Cathedral-Basilica of Saint Louis by then Archbishop, now Cardinal Raymond Burke in 2007. Since then, he has served in Saint Louis and Kansas City, Missouri, Oakland and San Jose, California, and finally in Tucson, Arizona. In addition he is the Master of Ceremonies for the U.S. Province.
Canon John O'Connor
A native of Newton, New Jersey, Canon John O'Connor studied briefly at the Franciscan University of Steubenville prior to entering the Institute of Christ the King in 2008 at the age of 18. During his time at Franciscan, he frequently attended Mass at St. Boniface Church in Pittsburgh. Canon O'Connor spent a year of pre-seminary formation at the Institute's United States headquarters in Chicago prior to seven years of formation at the seminary in Tuscany, Italy. After his ordination at the hands of His Eminence, Cardinal Burke in 2016, Canon O'Connor spent his first two years of priesthood serving at the Institute's apostolate in Limerick, Ireland.
May God bless and protect these priests, and help St. John XXIII Parish to continue to prosper in number and in faith!