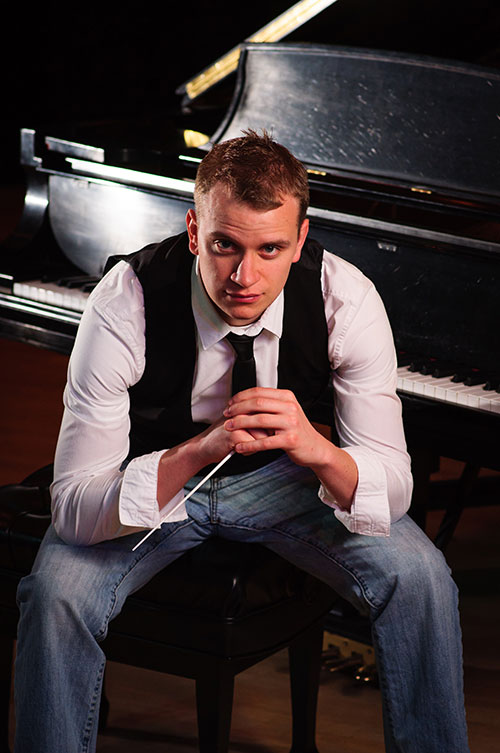 John Rokosz was born in Pittsburgh, Pennsylvania in 1982, and is the oldest of five children. His training in classical piano began at the age of 6, and his interest in the arts grew as he performed in piano-playing competitions and starting writing his own songs and creative stories. In high school, John played percussion in the marching and concert bands, performed all four years in the theater and musicals, and was a founding member and drummer of a neo-swing band that he started with his friends, writing several of their original songs.
John received his Bachelor's Degree in Music Composition from Duquesne University, graduating Cum Laude in 2004. His major instrument was piano, but he excelled in choral studies and conducting under the direction of Dr. Brady Allred and the Duquesne University Chamber Singers. Their ensemble toured throughout New York, performing in a presentation of Eric Whitacre's Paradise Lost, and singing a featured performance at the American Choral Directors Association conference in Lincoln Center. John developed his compositional sound through his studies with Lynn Purse, and began writing concert music for varying ensembles including brass quintet, strings, solo piano, percussion, and choir.
After graduation, John broadened his competencies by exposing himself to as many avenues of music as he could, following advice from his trusted mentor Amanda Ford. During those years, his experiences ranged from giving private piano lessons to conducting the orchestra of a high school musical; from freelance piano gigs to an apprenticeship at Sing-Sing Dueling Piano Bar; from teaching preschool music classes to conducting his own commissioned pieces; from singing in a church choir to writing scores for film and video games. Through these opportunities, John further realized his passion for composition, performance, and ensemble direction.
In addition to his solo pursuits, John was the keyboard player, backup vocalist, and arranger for the singer/songwriter band Paul Luc. During his years with the band, they performed throughout the Pittsburgh region, recorded 2 full-length albums (both available on iTunes), and received regular radio play on 91.3FM WYEP and 102.5FM WDVE in Pittsburgh. They also performed live on Pittsburgh KDKA's TV Morning Show, and toured multiple times through Philadelphia, New York, Raleigh NC, and Chicago. Shortly after leaving the band to focus on his solo work, John returned as an assistant writer and producer for the band's original music video Today and Last Night. With this project and other short films that followed, John quickly gravitated toward screenwriting and film production, and began working closely with his long-time college friend Jeff Balmert and cinematographer Marcus Morelli.
Today, John is the music director of the newly-formed Most Precious Blood of Jesus Parish at St. Francis Xavier Church in Pittsburgh. His schola specializes in Gregorian chant and Renaissance polyphony, singing for the Extraordinary Form of the Roman Rite (also called "the Traditional Latin Mass"), according to the 1962 Roman Catholic Missal. The schola has produced 2 albums, available on Amazon, iTunes, and all major online streaming providers. In addition, they have received radio play and recorded select pieces for 106.7FM WAOB in Pittsburgh. John is also a co-founder and owner of White Ball Productions — a new multimedia production company based in Pittsburgh that he created with Jeff Balmert. While he still enjoys freelance musician work, John is once again turning his attention to his life-long aspiration: to write creative stories and music. Through his work with White Ball Productions, John is writing new screenplays, filming and acting in short films and promotional video, and writing original music for these projects, as well as concert music for his own personal expression.
For a more detailed look at John's work with music, please see his Resume and Portfolio. For his filmmaking work, please visit White Ball Productions. To support his fellow collaborators and friends, please visit the Links page.