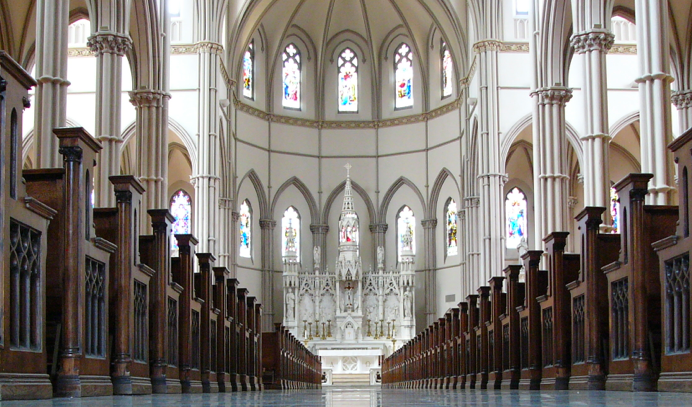 St. John XXIII Parish
, in association with the Diocese of Pittsburgh, will celebrate a Solemn High Mass in the Extraordinary Form at the high altar of
St. Paul's Cathedral
on Sunday, October 15th at 3:00pm! The Mass is also scheduled to be broadcast live on
EWTN
– be sure to tune in if you can't be there in person! This is a very special and exciting event for the parish, which marks the 10th anniversary of
Summorum Pontificum
, an apostolic letter written by Pope Benedict XVI in July of 2007.
Summorum Pontificum
addressed the two "forms" of the Tridentine Rite: the Ordinary Form (modern Mass in English) and the Extraordinary Form (Traditional Latin Mass), definitively protecting both forms as legitimate expressions of the Roman Catholic liturgy. Essentially, all dioceses in the world were thereby allowed to offer a Traditional Latin Mass for the faithful. Since that time, Traditional Latin Mass communities have seen a tremendous increase in participation, and have fostered a notable rise in vocations, Catechism, and charitable contribution. It is important to observe that a growing percentage of these congregations are youthful families with young children, and recently-married men and women in their late 20's or 30's. The liturgy itself is argued as one of the chief driving forces behind this congregational vitality; specifically the reverence, mystery, and solemnity of the Mass, the quality of music (notably Gregorian chant and Renaissance polyphony), and the authenticity of a Catholic rite that is centuries old!
The Solemn High Mass will be celebrated by Father James W. Dolan, pastor of St. John XXIII Parish, assisted by Father Ladis Cizik and Father David Rombold who will serve as Deacon and Subdeacon. The Schola Cantorum, directed by John Rokosz, will be joined by the Pueri Cantorum (youth choir), directed by Mrs. Sharon Burchill, and will perform the
Missa Brevis in F
by Giovanni Pierluigi da Palestrina, as well as other selections of Renaissance polyphony and Gregorian chant. The music will be further enriched with the generous help of
Nicholas J. Will
on the cathedral's nationally-recognized 1962 Rudolf von Beckerath Organ. Mr. Will is an Assistant Professor of Sacred Music at
Franciscan University of Steubenville
, where he also teaches organ and conducts the Schola Cantorum Franciscana. He is also the choirmaster and organist at
St. Elizabeth Ann Seton Parish
in Carnegie, and an organist at Pittsburgh's famous
Heinz Memorial Chapel
.
Many sincere thanks go to all of the clergy, musicians, technicians, and St. John XXIII parishioners that labored to make this celebration a reality; special thanks to EWTN, and to the Most Reverend David A. Zubik, Bishop of the Diocese of Pittsburgh; most of all, our prayerful gratitude to Pope Benedict XVI for his wisdom and courage to protect the beauty and majesty of the Traditional Latin Mass. May it be a source of grace to all Catholics for generations to come!