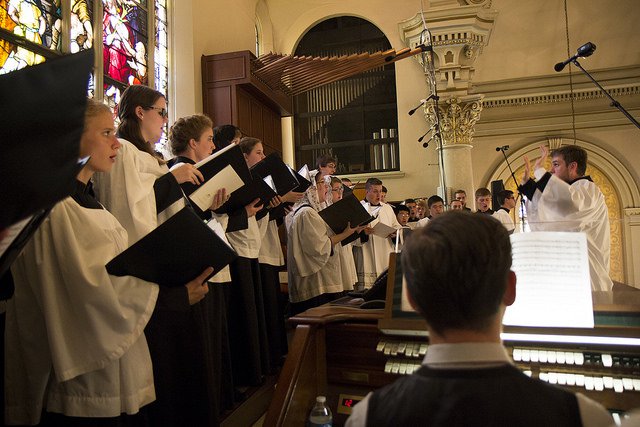 John was honored to sing with the
Schola Cantorum Franciscana
last April, for their Lenten concert entitled "Reflection on Christ's Passion". The performance was comprised of two pieces: Josef Rheinberger's
Stabat Mater
for organ, strings, and SATB choir, and Charles Wood's
St. Mark Passion
for organ, SATB choir, and solo voices.
For the St. Mark Passion, John sang the part of the Evangelist (narrator) as a solo tenor. Other solos included a baritone for the part of Christ, and various bass solos for Judas, the High Priest, Peter, and Pilate. This hour-long piece was written in 1920, entirely in High English, and is primarily composed of five "Lessons" (readings) from the Gospel of Mark: the Last Supper, Gethsemane and Judas' betrayal, the trial before the High Priest, the trial before Pilate, and the Crucifixion. The Lessons are sung by the soloists in a recitative style, with the greater ensemble joining for more structured, multi-part harmony throughout. Interspersed before and after each Lesson are meditative organ interludes and four-part hymns such as
"Sing, my tongue, the glorious battle" (Pange Lingua)
,
"The Heavenly Word proceeding forth"
, and
"My God, I love thee"
. With a solemn setting and a reverent audience, the end result was an impressive, prayerful, and moving rendition of the Lord's Passion and Death.
The Schola Cantorum Franciscana is directed by
Professor Nicholas Will
, and is dedicated to performing Gregorian chant and a wide variety of polyphony, ranging from the Renaissance through the Contemporary eras. The ensemble tours throughout the region, performing in concert spaces and liturgical Masses alike. It is truly a shining asset of Franciscan University's Sacred Music program.
As this season of Lent begins, please enjoy the following samples of this beautiful performance. May sacred music like this continue to bring artistry to our young people, and bring us all closer to God!
The Last Supper
Gethsemane
Trial Before the High Priest
Trial Before Pilate
The Crucifixion
"Sing, my tongue, the glorious battle"