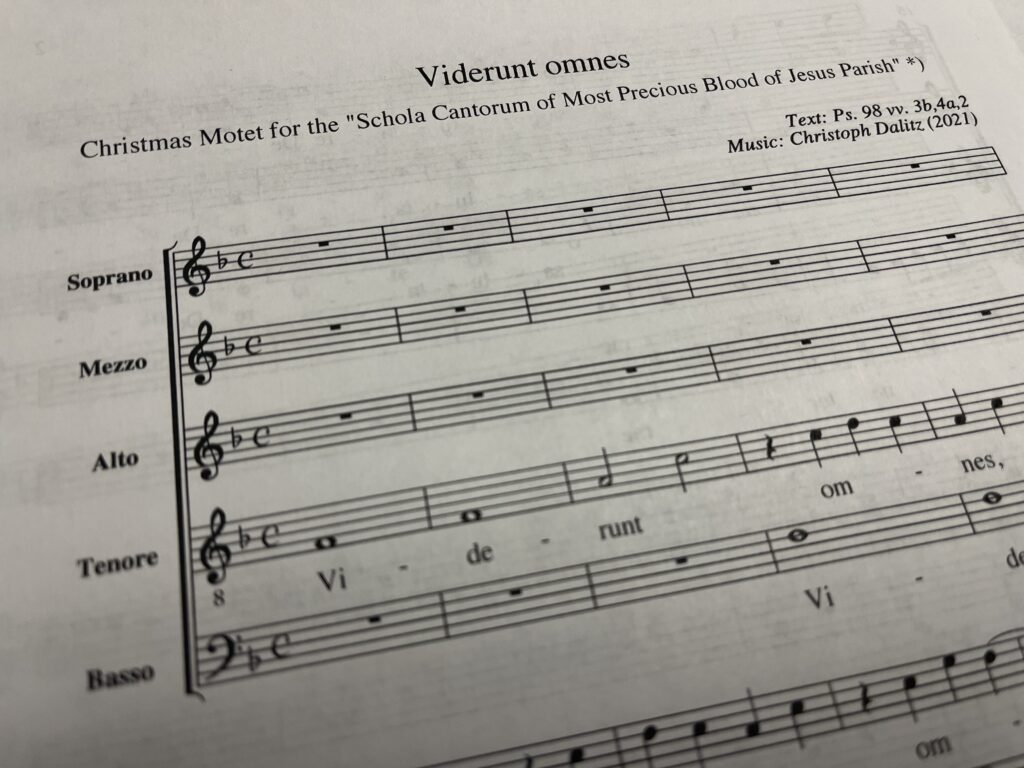 A global pandemic is no match for the kindred spirit of musicians, and fewer opportunities for performance gigs can mean greater opportunities for composition and collaboration. This is precisely the case for the Schola Cantorum of Most Precious Blood of Jesus Parish, as they premiered their third commissioned piece this Christmas season.
"Viderunt Omnes" is a brand new sacred motet written by German vocalist, lutist, and composer Christoph Dalitz. Its text is taken directly from the Gradual proper chant of Christmas, and its style harkens to the joyful exuberance of Gabrieli. Having performed several of his works before, the schola was excited and energized to learn this new piece, which was actually commissioned for the schola by Herr Dalitz himself. The piece utilizes contrasting voicings for subsequent portions of the text, effectively providing a well-rounded vocal performance which includes 2-part male counterpoint, psalm tone chant with SATB-harmonized response, and a glorious 5-part SSATB refrain. This refrain joyously punctuates the piece with the text "Jubilate Deo, omnis terra" ("Sing joyfully to God, all the earth"). The schola plans to record this piece for online distribution in the summer.
This is the third of such collaborations with contemporary European composers. In the fall of 2021, the schola premiered a full polyphonic Mass from Dutch conductor and chantmaster Wilko Brouwers. "Missa Brevis" is a beautiful yet poignant composition which takes inspiration from Bach's Mass in B Minor and the Gregorian plainchant Mass XI: Missa Orbis Factor; with pleading undertones reminiscent of a world strangled by fear of disease. With distinctively more modern harmonies and counterpoint, this was an invigorating addition to the schola's repertoire. In like manner a year earlier, the schola premiered an adaptation of "O Sacrum Convivium" by Maestro Brouwers; again composed personally for the choir.
These compositions provide a welcome sign of vitality for sacred music in two ways. First is the very fact that gorgeous, calculated, liturgically minded, and artistically demanding "sacred music" is being written at this very moment. Although the guarded treasury of Catholic polyphony and chant is hugely expansive at the very least, the continued additions to this library proudly proclaim that sacred music is anything but dead or historic. Second is the undying desire of musicians to do what they do best: make music. In spite of choirs, orchestras, and the arts at large being severely restricted across the world, it is a rejuvenating sentiment indeed that cooperation between musicians never ceases, and those willing enough to pursue their God-given talents will always find ways to create such opportunities. Many heartfelt thanks and good wishes to Herr Dalitz and Maestro Brouwers for their continued friendship. The schola looks forward to further expanding their repertoire with many more projects from these and other composers across the world!
Please enjoy this sample of the schola singing Maestro Brouwers' "O Sacrum Convivium":