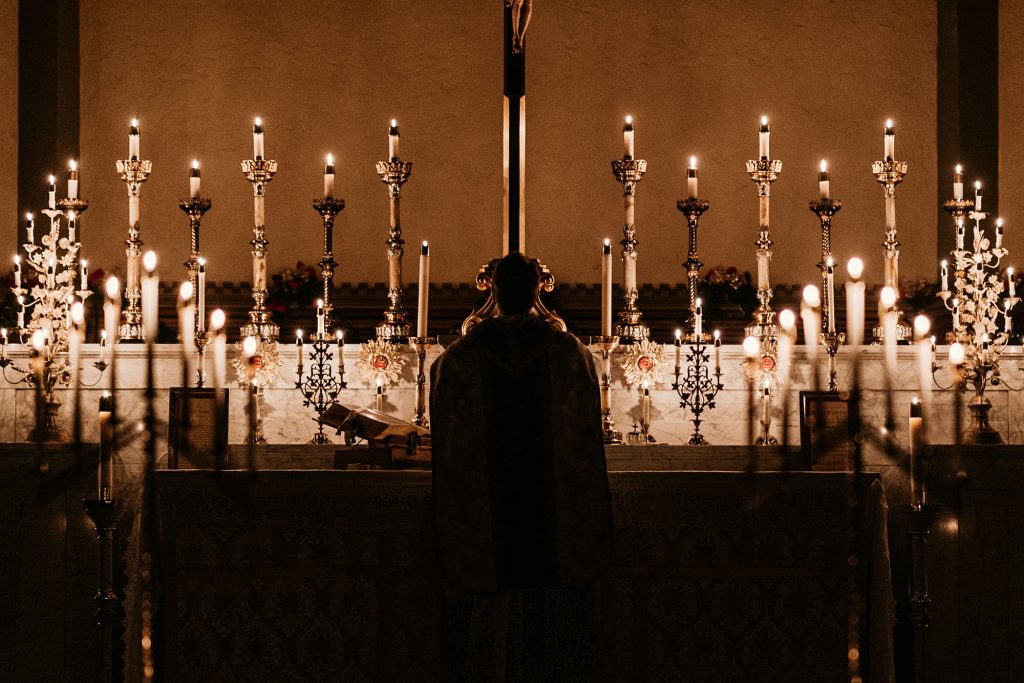 This Advent season drew to a profound climax of anticipation and beauty in a candle-lit Rorate Mass, celebrated on December 22nd at Most Precious Blood of Jesus Parish. This was celebrated as a High Mass for the first time this year, and considering its attendance and grateful reception, it will hopefully continue for many years to come. The full schola participated to sing unaccompanied music, which added great solemnity and depth to the liturgy.
A little-known secret of the Catholic Church, centuries old, the Rorate Mass is a votive Mass for Our Lady during Advent. It is normally celebrated on a Saturday, before the sun rises (Most Precious Blood's Mass, for example, began at 6:00 a.m.). The Mass' name is taken directly from the Introit of the Mass Propers:
"Rorate, caeli, desuper, et nubes pluant justum, aperiatur terra, et germinet Salvatorem."
"Drop down dew, ye heavens, from above, and let the clouds rain the just: let the earth be opened and bud forth a Saviour."
This Mass calls to mind the very intimate and necessary connection of the Advent season with Our Lady, who at this time was preparing herself to give birth. As one can imagine, any approaching birth can be thrilling and terrifying all at once–how much more for the Virgin Mother, who knew that this birth was the coming of the world's Savior! Her anticipation becomes our own, as we all prepare for this great moment.
Nearly all of the faithful in the congregation held candles of their own, either brought from home or provided at Mass. The effect was a beautifully meditative atmosphere, which calmed the senses and eased the mind, allowing everyone present to withdraw from the outside world into a profound, supernatural, spiritual and sensory experience of prayer.
Many thanks, as always, are due to the Reverend Canons William Avis and Ross Bourgeois, from the Institute of Christ the King Sovereign Priest. Their piety and devotion to Our Lord and to the Latin Mass continue to evangelize and vivify the faithful of the Diocese of Pittsburgh. The parish schola is also to be commended and appreciated; their constant dedication and hard-wrought talent is an inspiration for anyone pursuing their life's vocation. Every week, they work their hardest to provide music worthy of the excellence of the Latin Mass.
As we begin this new year, may we always remember this solemn anticipation of the Advent season, and the joy and gratitude of Christmas. May that mindfulness steer our thoughts, words, and actions as the year unfolds–in how we treat our faith, ourselves, our families, and our neighbors.
Photos of the Mass are shared below, courtesy of Juliana Lamb. Happy new year to all!