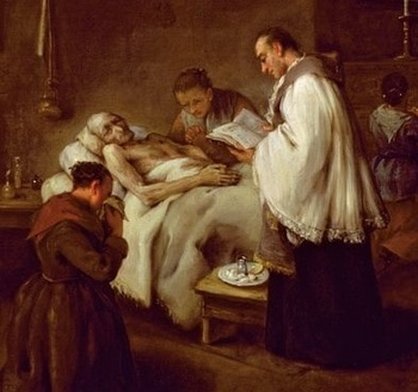 Last Thursday evening, nine musicians gathered to say farewell to a good man. Father Angelus M. Shaughnessy, a long-time friend and supporter of Pittsburgh's Traditional Latin Mass, was in his final earthly hours, resting at
Vincentian Home
in the North Hills. The Schola Cantorum of St. John XXIII Parish assembled together to show their gratitude and bring him some peace at the end of his priestly journey, singing several motets, chants, and hymns in his room. It was truly a moving experience; one that will leave a lasting impression on everyone involved. Father Angelus died the next day at 2:15pm, while praying the Rosary. He was 89 years old.
Father Angelus M. Shaughnessy, OFM Cap., was ordained on June 4th, 1955. During his ministry, he preached to 128 million families worldwide through the Eternal Word Television Network (EWTN) from 2001 to 2007. There, he served as the Minister General to the Franciscan Missionaries of the Eternal Word. Father Angelus had also faithfully served God as a missionary to Papua New Guinea from 1966 to 1980. While Father Angelus was certainly a 'man of the world,' his roots were in Pittsburgh, Pennsylvania. In 2007, he returned to Pittsburgh, where he served as the national executive director of the Archconfraternity of Christian Mothers until the time of his death. Throughout those years, he visited St. Boniface on several occasions, preaching and celebrating the Traditional Latin Mass.
Please enjoy the following video, which was filmed and produced by Mr. Tom Nypaver, a fellow parishioner of St. John XXIII Parish. Many thanks to him, and to his wife for reaching out to the schola for this opportunity. It was a beautiful, moving experience for which the schola is forever grateful.
God be with you, Father Angelus.
Requiescat in pace.