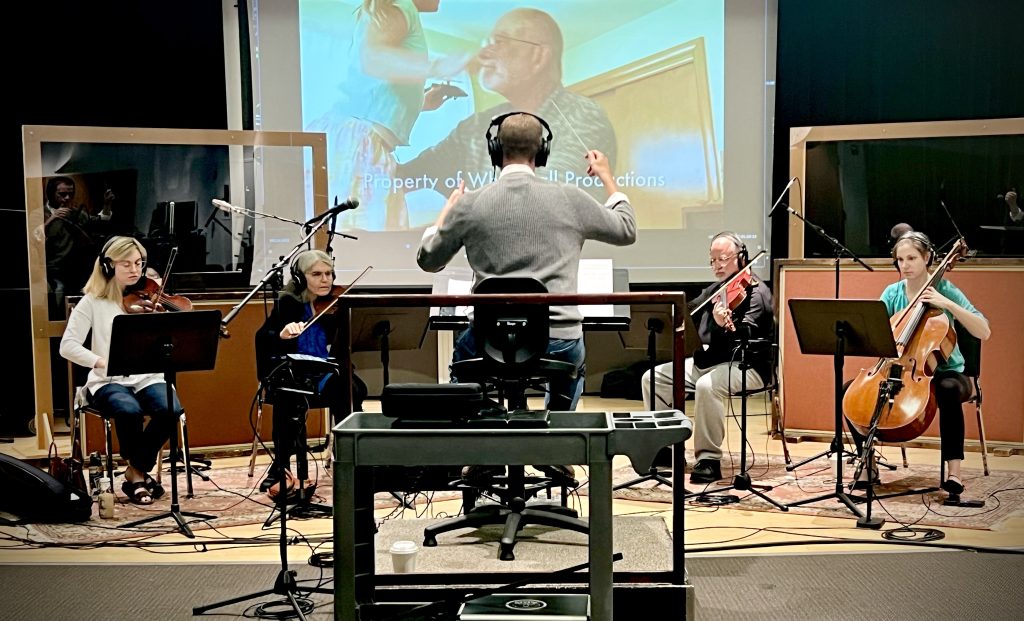 Three memorable days, bringing to fruition nearly seven years of work…
When John finished the first draft of his new screenplay in the summer of 2016, one would hardly believe that it would be another seven years before the film would be made–or that it would be made at all. But at last, "Grandpa and Shorty" is complete, and a time-intensive schedule was necessary to compose, orchestrate, and capture John's original soundtrack and punctuate the post production process in time for the film's first submission to the GI Film Festival.
The film's original score is compromised of 13 cues, orchestrated for string quartet, flute, French horn, and piano. John performed the piano tracks himself, and employed members of Pittsburgh's Academy String Quartet and other local musicians for the remaining parts. The recording took place over three sessions at the end of October. At the heart of the operation were two diligent and passionate interns from Duquesne University's Mary Pappert School of Music: Seth Toops (Junior, Music Composition), who served as orchestrator and assistant composer; and Matthew Sterbenz (Junior, Sound Recording), who served as the recording and mixing engineer. Seth and Matthew's work was invaluable for orchestrating parts for each instrument, running the recording session, and providing a finished mixdown for insertion into the film's final audio mix. Many thanks to these students for their professional demeanor, focused engagement, attention to detail, and energetic contributions to the project. Judging from their work here, they will surely succeed in the music industry. Special thanks are also due to Professors Tom Kikta, Robert Traugh, Thomas Haas, and the School of Music's administration for the use of their recording facilities. It was a very fulfilling project for John, bringing his professional career full circle by working with his Alma Mater, his former professors, and a new crop of students in his same major of Music Technology.
As for the music itself, three main themes are used to tell Grandpa and Lizzy's story: duty, reaching out, and regret. "Duty" possesses a more tender sound than one might expect, speaking less towards the military aspect of doing one's job, and instead focusing on the emotional human foundation inherent in any task or person to which we must be loyal. "Reaching out" is a primary image throughout the film, and specific instruments act as characters in the soundtrack (i.e. the cello for Grandpa, or the flute for Lizzy), illustrating the moments when Lizzy or Grandpa are seeking a connection with their loved ones. "Regret" is a recurring motif, almost completely embodied in Grandpa. His memories of military duty and service clash with those of missed birthdays, graduations, and the loss of his wife. It calls for a contemplative mournfulness that directly drives Grandpa's character arc, and indeed the entire moral question of the film: "why do we serve?"
Now that post production is officially concluded on "Grandpa and Shorty," the next step is marketing and submission of the film to as many U.S. film festivals as possible. The ultimate goal is to generate enough interest and accolades for the film to be accepted for distribution on digital streaming services (e.g. Netflix, Amazon, Hulu). White Ball Productions hopes for an official confirmation of the film's acceptance into the 2024 GI Film Festival by February 2024. Until then, onward and upward for Grandpa, Shorty, and all of the cast and crew that worked so hard on this project!
Please see the photo gallery below from the recording sessions, and listen to a few audio samples of the finished soundtrack!
Gotta Catch Me
Awful News
The Study
Brave
Lizzy's Sacrifice
Our Job
©2023 White Ball Productions