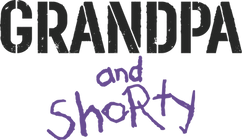 On Friday, October 1st, White Ball Productions unveiled the official website for their new short film, "Grandpa and Shorty"! Grandpaandshorty.com marks an exciting first step of the marketing process, where viewers can learn about the project, its goals, and the cast/crew responsible for its production.
In addition to an overview of the film's story, the "Media" page offers exclusive behind-the-scenes pictures of each stage of the filmmaking process. This includes pre-production (such as storyboarding and pre-visualization), production (on set with the actors and crew), and post-production (editing and soundtrack, which will be coming soon). Once complete, this page will also include movie posters and a press kit for digital marketing. The "Cast and Crew" page highlights the key filmmakers with profiles and links to their personal sites. Viewers can also use the "Contact" page to connect directly with White Ball Productions for any questions or comments, and sign up for the email newsletter to receive the most current updates regarding the film's completion and release.
Here are a few sneak peeks of the photos that can be found on the site. Please tune in regularly to grandpaandshorty.com for full photo galleries and updates, and consider signing up for the email newsletter!