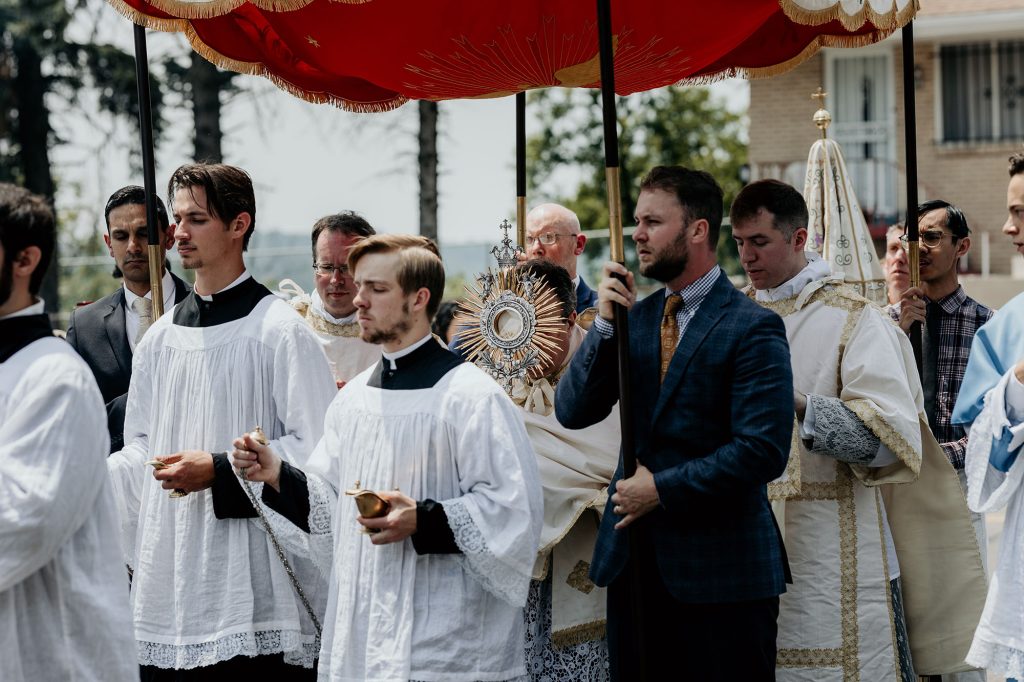 On Sunday June 11th, Most Precious Blood of Jesus Parish was delighted to host the Prior General and Founder of The Institute of Christ the King Sovereign Priest, Monsignor Gilles Vach. Msgr Vach celebrated a Solemn High Mass for the External Solemnity of Corpus Christi with a church filled with parishioners of all ages.
Between the motherhouse and international seminary of the Institute in Gricigliano, Italy, and several apostolates across the world, Msgr Vach makes a great effort to visit the US apostolates once a year. This year, Pittsburgh was honored to receive him on such a solemn feast. Corpus Christi also marks the end of the schola's season, so it was a pleasure to punctuate the 2022-2023 liturgical season with such grandeur.
Joined by a string quartet of Pittsburgh instrumentalists, the schola performed Mozart's Ave Verum and Franck's Panis Angelicus. They also sang the haunting Tantum Ergo by Maurice Duruflé and the Missa Secunda by Hans Leo Hassler.
As prescribed in the Roman Missal, the Mass was immediately followed by a Eucharistic procession and benediction. The entire congregation processed outside and around the church building to a "Stational Altar" where Msgr Vach gave the first benediction. Upon returning to the church, the schola chanted the majestic "Tantum ergo sacramentum", accompanied with a beautiful string arrangement by Thomas Quigley.
After the Mass, the congregation was treated to a lunch reception with Msgr Vach. The parish center was vibrant and alive with young families, which is a testament to the excellent work and pastoral care of Canon Avis and Canon Bourgeois, who serve as the pastor and vicar of Most Precious Blood Parish. The parish is blessed beyond measure to have their leadership, with so many devoted parishioners of every age.
This choir season draws to a well-earned close with several successes: the implementation of a three guest scholas to serve extra feast days throughout the year, continued growth and development of three youth choirs under the direction of Mrs. Sharon Burchill, Low Masses with organ for every non-penitential Sunday of the year, the partnership of a string quartet for Easter and Corpus Christi, and the performance of three of Duruflé's famous Quatre Motets sur des thèmes grégoriens: Ubi Caritas, Tota Pulchra Es, and Tantum Ergo.
Many thanks, as always, are due again to the tremendous support of Canon Avis, Canon Bourgeois, the parish staff, Mrs. Burchill, and all musicians, parishioners, and benefactors that make every liturgy as beautiful and spiritually inspiring as possible.
Please enjoy the following audio samples and photos from the Mass! Photos courtesy of Juliana Lamb.